Safety, health & environment management
Safety Environment Headquarters
Ochang Safety and Environment Division
Ochang Safety Team
Safety management
Health management
Safety and Health Committee
Line Safety Patrol
Ochang Environment Team
Atmospheric environment management
Water quality environment management
Hazardous Chemical Substance Management
waste management
Pohang Safety and Environment Division
Pohang Safety Team
Safety management
Health management
Safety and Health Committee
Line Safety Patrol
Pohang Environment Team
Atmospheric environment management
Water quality environment management
Hazardous Chemical Substance Management
waste management
Strategic Management Team
Serious Disaster Punishment Act
environmental planning
ISO45001&14001 management
Overseas licensing management
Environmental safety goals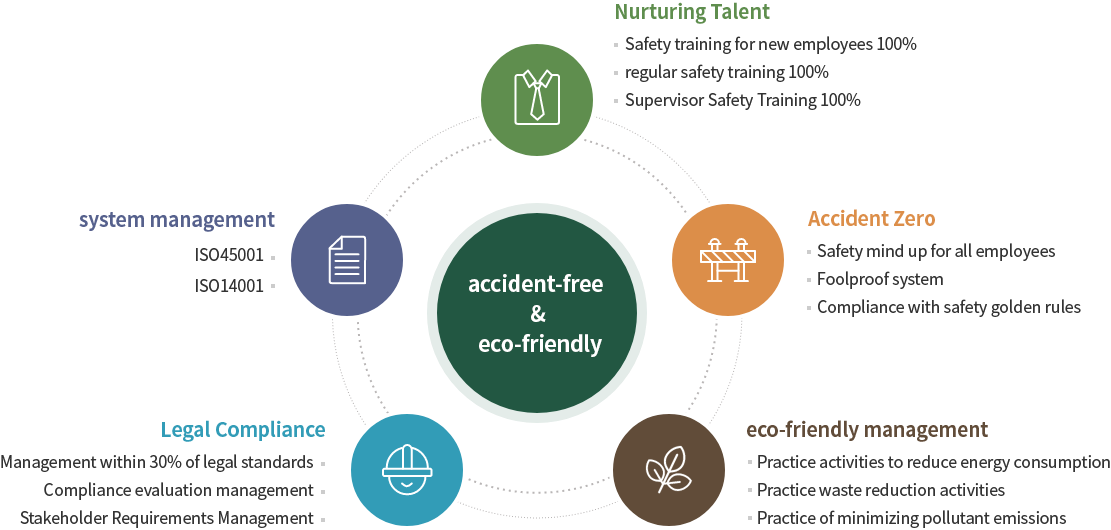 Health, Safety and Environment Policy
Ecopro BM is running its business based on the will of the CEO, 'Safety and the environment are the top priority'.
We are making various efforts to ensure no accidents for our employees, including our partners, and to protect the environment in the local community.
We will continue to implement the following safety and environment management policies to manage sustainably as a leading company trusted both domestically and internationally.
Safety, health and environment as top priority management principles
We comply with domestic and foreign laws and international agreements related to safety and health and the environment.
Establish and practice detailed goals for health and safety and environmental improvement
Continuous investment is made to prevent accidents and environmental pollution in the workplace
Manage risks in advance through autonomous health and safety and eco-friendly activities
Practice environmental protection and share information for coexistence with local communities
Fulfill social responsibilities through communication with all stakeholders
We, Ecopro BM executives and employees, will fully understand the policy and actively practice it to make continuous efforts to realize an accident-free and eco-friendly workplace.
Joo Jae-hwan, CEO of Ecopro BM